Dr. Morton O'Kelly, an Ohio State geography professor, still remembers the days of lecturing with overhead projectors. This fall, however, he adopted LectureTools for his Geography of Transportation course. Times have changed.
Increasing student engagement with technology
"[I] certainly notice a lot more student engagement in the class than maybe in the old pencil and paper and overhead projector days when maybe one or two students would constantly answer," said Dr. O'Kelly. "This time we know for sure that 60% of students at all times are giving us feedback."
LectureTools has provided an active learning platform for Dr. O'Kelly's students. Now, all of them are following along with his lectures during class. More importantly, multiple students are participating every day.
By incorporating poll questions, Dr. O'Kelly is able to break up his lectures, assess student comprehension, and engage students with the material. Professors have always been able to ask questions or have students solve example problems to test students on their understanding. But, particularly in larger lectures, it has been impossible to take answers from more than a handful of students.
Without fear of making a mistake in front of the entire class, over half of Dr. O'Kelly's students are now providing answers to his poll questions -- a huge increase over the handful of students who used to dominate such discussions. Increased participation on poll questions provides a larger sample size for instructors to get a better sense for what students are struggling with in real-time.
Getting Teaching Assistants more involved with the class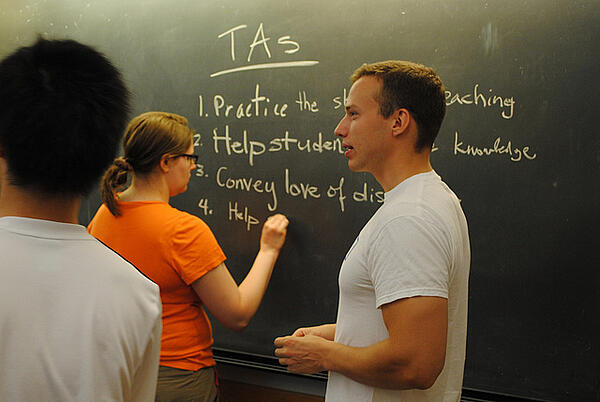 In addition to providing feedback to instructors, LectureTools opens up communication between students and TAs.
"I feel a lot more involved in the class because I get to answer questions as we go along," said John Corvo, Dr. O'Kelly's teaching assistant.
Both instructors and their teaching assistants can answer questions students submit using LectureTools, making the question and answer anonymously visible to the entire class. Students no longer need to interrupt their professor or risk embarrassing themselves in front of their classmates to ask a question.
Because of this, students are more likely to take advantage of their TAs. It's the perfect balance between moving forward with lecture material and interacting with students on an individual level to clear up any confusion.
Read more at the OSU Digital Union.
Photo: Vandy CFT
Improve student engagement in your classroom
LectureTools provides an active learning platform for your students. Schedule a 30-minute live demo and learn how LectureTools could improve student engagement and increase participation in your class.