For many college students, another semester is underway. With it comes the juggling act between academics, clubs and sports teams, a part-time job, and – yes, even a social life. Time is a precious commodity, and that's why LectureTools is an active learning platform designed to help students study more efficiently and learn more.

Photo: presta
Here are a few tips on how to study smarter with LectureTools:
1. Take notes. Review them anywhere, anytime.
When professors cover material in class, take notes with each slide. Having the slide deck provided within LectureTools means you can rely on the course materials for basic understanding and definitions, and focus on examples and in-depth insights when you take notes.
Since notes are stored in the cloud, you can review them from any computer or iPad with an internet connection. Going offline? Print out your notes attached to the slides, or save them as a PDF to save paper (and to save on your printing quota).
2. Ask questions now, not the night before the exam.
The night before the exam is the last time you want to realize something from your instructor's slides just doesn't make sense. Even if your professor is quick to reply to your emails, and besides, cramming is probably not going to help you as much as you'd like it to.
Pay attention during class. When you get confused, don't be shy: submit your question with LectureTools. You'll get a notification when your instructor or teaching assistant answer your question. And with their help, you'll already understand the material when exam time rolls around.
3. Check the question stream for Q&A from your peers.
While we're still on the topic of questions, don't only worry about your own. LectureTools will anonymously show you questions submitted by your classmates that have been answered by the instructor or TA.
These provide a great way to double-check your understanding – if you find yourself knowing how to answer most of the questions then you are likely in good shape for the exam. If you don't, revise your study plan accordingly.
4. Practice with the activities from lecture
Re-reading material isn't a bad idea. But be sure to actually engage with material when you are studying for that test. Chances are, the activities (multiple choice, free response, or otherwise) that your instructor gave as practice during lecture will bear at least some resemblance to future quiz questions.
Make sure, at minimum, you know how to approach the problems already discussed in class and can apply what you learned to other problems.
5. Don't forget about your bookmarked and confusing slides.
So you marked a slide as confusing, or bookmarked it in LectureTools during class. Great! This will help you down the road and save you precious time during exam week because you are the best judge of which concepts are causing trouble, and which slides are the most important.
When the time comes to review, filter your slides. Make sure slides that you had marked confusing are no longer a problem, and use the bookmarked slides as a starting point for your studies.
6. Stop keeping your course materials in more than one place
There was once a time when you had to keep track of your notes, quizzes, and slides – and a lot of people just threw them into their backpacks. But you can use LectureTools as a comprehensive place for everything you need to study.
Avoid the need to carry everything around by using the cloud. And don't even worry about having things spread across different websites and files on your computer. Just keep everything in one organized, central environment.
7. Go mobile with LectureTools for iPad
If your laptop is weighing you down or your school has an iPad initiative, get LectureTools for iPad. The app enables you to take notes and access every feature of the LectureTools web app in the intuitive interface of iPad. Oh, and the best part is that the app is included for free with your subscription.
Hopefully these tips help you ace those exams!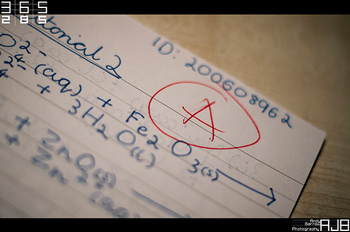 Photo: thebarrowboy
Learn More About the LectureTools Active Learning Platform
Let us give you a tour of both the student and instructor sides of LectureTools. LectureTools has been shown by the UM CRLT to increase student engagement and attentiveness. If you give students an opportunity to participate, they will.