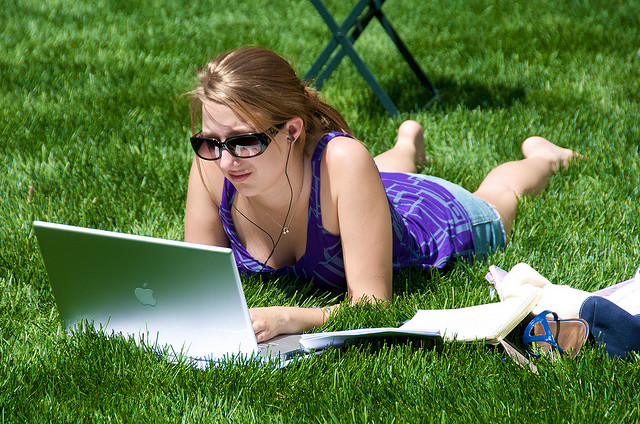 Photo: Ed Yourdon
From Coursera to edX, "MOOC" has become one of the top education buzzwords of 2013, with some of the most powerful brands in higher education like Stanford, MIT, and the University of Michigan offering courses for free. These Massive Open Online Courses have been growing in number over the past year, and with over 2.7 million "students" on Coursera alone, it is easy to see why MOOCs have become the topic de jour.
With courses being taught online for free from the Harvards, Stanfords, and MITs of the world, will there be a place for the physical college campus experience in the future?
MOOCs share some characteristics of disruptive technologies
Wired notes that MOOCs have certain traits that have traditionally been held by disruptive technologies. MOOCs are serving people who aren't already enrolled in college, making content free and accessible to those who otherwise would miss out. Additionally, with materials online, students have some flexibility with their schedules that students who must be in a brick-and-mortar room at a specific time do not.
MOOCs also are now at the point where their quality is allowing them to be desirable to "upmarket" users as supporting technologies like bandwidth and online sharing have proliferated. While they are not yet sufficient to meet the needs of many college students, they are beginning to approach a more rigorous standard that will increasingly meet the needs of consumers.
Why MOOCs aren't ready to replace "traditional" colleges just yet
On paper, MOOCs sound like the revolution in education that we have been waiting for. But it isn't that simple. While the features of MOOCs – captured lectures, the ability to discuss material with fellow students, and practice assignments – parallel or are similar to the traditional classroom, MOOCs have yet to see the same success.
Most importantly, only a small fraction of students who enroll in MOOCs go on to complete the course. This phenomenon is so pronounced that it caused Richard McKenzie, a UC—Irvine professor, to leave his Coursera "Microeconomics for Managers" course because of his 37,000 students, "fewer than 2 percent have been actively engaged in discussions."
Professor McKenzie viewed uninformed or superfluous responses from students in discussion forums as an impediment to the learning of the students serious about completing the course. In this arena, MOOCs may not meet the standards of the traditional university because students in many cases may not be coming from the same level of commitment as their college-enrolled counterparts. Without tuition to pay or an official transcript, many who register for MOOCs could be enrolling simply out of curiosity – the stakes are low. Unlike the full-time student in a university who could be wasting tens of thousands of dollars in tuition for not devoting their full attention to a course, a Coursera user can leave a course at any time with no real consequences.
Though some MOOCs are beginning to offer certifications for students who want to prove their work in online courses, even the co-founder of Coursera doesn't think they will reach the value of a traditional degree from one of the MOOC-provider's partner institutions.
Lessons from MOOCs that can be applied to higher education via blended learning
MOOCs aren't ready to replace the classroom experience for the majority of students yet. But, there are a few qualities of MOOCs that can be used in a blended learning class (i.e. combining both face-to-face instruction and online elements) to improve student learning and satisfaction.
Among these are providing ways to students to ask questions and get answers digitally. Personal capture (PCAP) and lecture capture videos are also great resources for students to access when studying after class, even if they are on a physical campus. Ultimately, digital tools and practice problem sets can enhance student learning in any course setup because they increase the opportunities for students to engage with material, think critically, and learn in the way that is most effective for them
How Students Consume Complex Concepts with Blended Learning
Attend our free webinar -- Snacking on Substance: Active Learning Cuts Rich Course Content into Bite-Sized Chunk -- to learn how students at the Michigan State University College of Veterinary Medicine consume complex concepts with some help from lecture capture and a student engagement system.