Google Introduces the Chromebook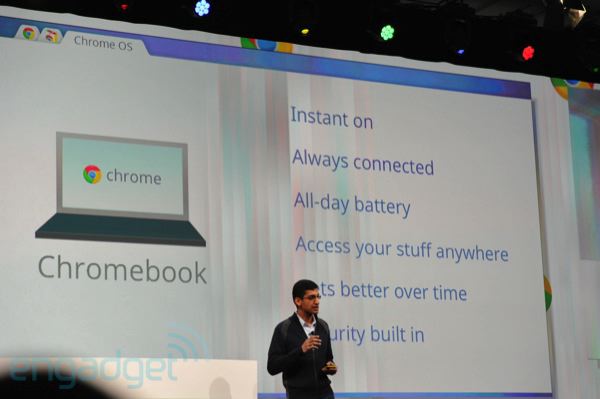 During Day 2 of Google I/O 2011, Google announced that it will lease laptops running the company's Chrome OS to students for $20 per month. Google is calling the systems "Chromebooks", and has made a short, humorous video to introduce its new product.
The Chromebook differs from other laptops and netbooks because unlike its counterparts, which typically run either Windows or Mac OSX operating systems, it runs Google's Chrome OS. Chrome OS is an operating system that is designed to run web applications: users do not install and run programs on their hardware.
Any web application that runs in a browser window on another system can run on Chrome OS. This notably includes the Google Apps productivity suite, which among other features, bundles word processing, spreadsheet editing, email, and calendar applications.
Relying on cloud computing rather than locally-stored programs means Google expects netbooks and laptops running its operating system to boot up in a brisk 8 seconds. Since data is stored in the cloud, it can simply be accessed from another machine in the event of hardware failure or theft.
For now, however, this cloud-based approach presents a limitation for the Chromebooks. Without a 3G-enabled device, moving away from Wi-Fi connections means users cannot work on their documents in Google Docs. By contrast, a user with a Mac or PC can edit documents offline using Microsoft Office or iWork at any time, independent of an Internet connection. Google plans to remedy this limitation by releasing offline versions of Gmail, Google Calendar, and Google Docs to its users later this summer.
Google enters the education market with lease program
Google has been working with hardware manufacturers like Acer and Samsung to develop netbooks and laptops that run the Chrome OS for some time. But today's announcement of equipment leasing effectively positions Google as a leader in the educational technology industry.
Educational users who lease a Chromebook will get a laptop they can use in class, at home, or anywhere in between for $20 per month. Business users can also lease the service, but will be charged a slightly higher rate of $28 per month.
Subscribing to applications is nothing new. Microsoft Enterprise allows users to subscribe to the Microsoft Office productivity suite. "Software as a service" (SaaS) is a technology trend that is just getting started.
Google, however, is offering the Chromebook leases to education and business users for no up-front cost. Additionally, users do not need to purchase their laptop, and upgrades to newer systems are considered "regular hardware refreshes" that are included in the monthly subscription fee.
Implications of the Chromebook subscription program on education
No doubt that students at schools that are "early adopters" will begin to sport Google's new hardware offerings on college campuses by next fall. Users who spend most of their time on campus are likely able to access free Wi-Fi almost everywhere they go, meaning that the lack of offline support for many web applications would not pose as much of a challenge to students.
Without the need to pay up-front for using the Chromebook, many IT departments may also find financial merits to the subscription program.
Buying and maintaining a new laptop with similar processing power to Google's offering would cost several hundred dollars from day one just for the hardware, excluding the additional cost of software like Microsoft Office and the cost of support. Traditional users who purchase and own their hardware must pay for any hardware upgrades, unlike Google's "regular refreshes."
For the price of roughly a single new textbook or less per semester, some are sure to take up Google on its offer. Interactive classroom technology is becoming ever more accessible to students.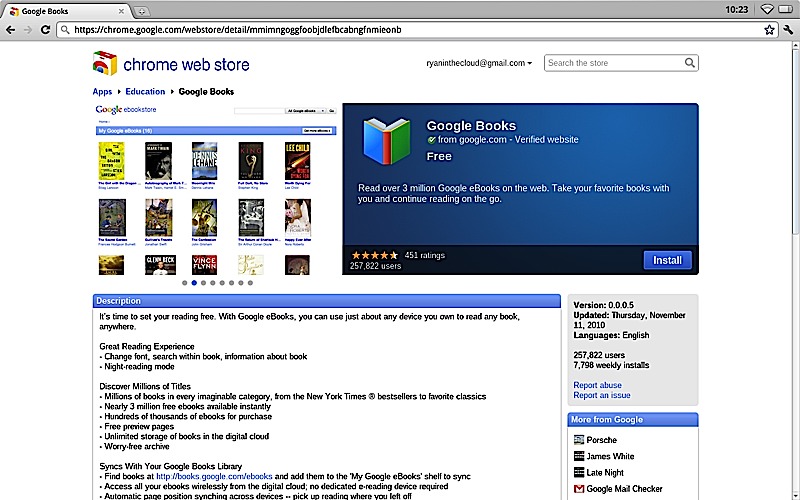 As Google gains share in the higher education market, the applications that most Chromebook users are likely to turn to, such as Google Docs, will frequently be used in the classroom. The Chrome App Store will also offer students a Google Books application designed to download and read ebooks.
While encouraging students to utilize such web-based systems in class may lead to the temptation of pointing browsers at distracting social media websites, these kinds of emerging technologies in education have the potential to revolutionize student learning.
The collaborative learning and editing that is possible through Google Docs, for example, provides an opportunity to facilitate peer instruction and increase student engagement, even in large lectures.
How do you think Google's Chromebook subscriptions will change education?