Yesterday LectureTools hosted five University of Michigan instructors for a round-table discussion about their experiences teaching with the LectureTools this spring. Members of the development, design, and business teams sat alongside the beta instructors for the discussion over lunch.


Increasing Student-Instructor Interaction with LectureTools
The instructors were enthusiastic about LectureTools, particularly how interactive activities and the student inquiry channel facilitate real-time feedback from students.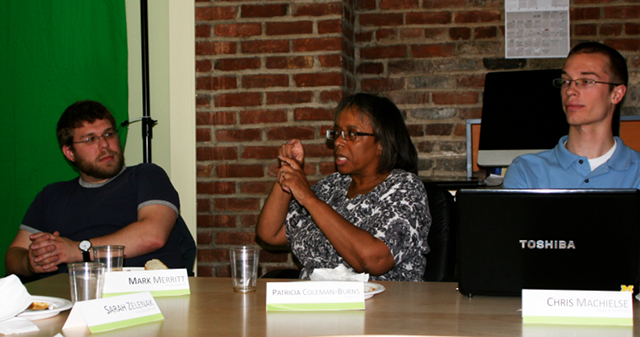 "It's that interactive piece, it's that accountability piece – and the feedback that I got from [my students] on Monday is that they really like that method of interactivity," said Dr. Patricia Coleman-Burns, who taught a 20-student nursing course. "The PowerPoint by itself, it's very passive."

Although Coleman-Burns had a relatively small class, she found LectureTools still helped her to identify how her students were learning.

"I'm freer to really hear what they're not getting, I'm freer to get the gaps in their knowledge, I'm freer to give them this platform where they can fail without failing," she said.

As a classroom response system, LectureTools allows instructors to pose multiple choice, ordered list, free response, or image quiz question types to students. At the instructor's option, the system can generate a results slide to display during class, revealing how students are thinking and enabling class discussion.

Dr. Marita Inglehart, who taught a 100-student Psychology of Dentistry lecture remarked she enjoyed being able to get a sense for how many of her students were answering her questions, instead of relying on just one or two students to share their views with the class.

Dr. Ken Balazovich often teaches courses of 400 or 500 students during the fall and winter semesters. This spring he saw the LectureTools Beta as a valuable "trial run" in his Molecular, Cellular, and Development Biology course of around 100 students.

"I've always used lots of questions, I demand interaction. What [students] don't want to do is make a wrong answer in front of 400 people," he said.

Allowing students to work through problems in-class with the help of classroom response systems encourages them to think critically.
"They're a lot more open to taking risk," said Coleman-Burns. "What we want them to do is learn."
Addressing Student Comprehension and Questions During Lecture
Dr. Lynn Carpenter, who taught about 100 students in an introductory biology course this spring, and Balazovich both found value in LectureTools' student inquiry tool. Graduate student instructors were able to answer their students' questions while Carpenter and Balazovich went on teaching their lectures.
Another featured designed to allow students to report comprehension issues during class is the ability to flag a slide as "confusing."
"If 10% say it's confusing, I'll go back and attack the problem in another way," said Balazovich. "So I don't have a deli line outside my office with questions."
Despite Balazovich's use of real-time feedback, he noted, "I don't teach any differently except I'm cognizant of confusing slides. It's the students who are learning differently."
Having access to students responses and feedback during lecture makes the task of agile teaching easier for instructors in large classes.
"I loved the idea that I could get immediate feedback from my students during lecture," said Inglehart.
Looking Forward to Future Courses and LectureTools Features
As the spring beta period comes to a close, the instructors found that most of their beta issues had been fixed by the development team. The meeting concluded with discussion about what comes next, both for the instructors and for LectureTools.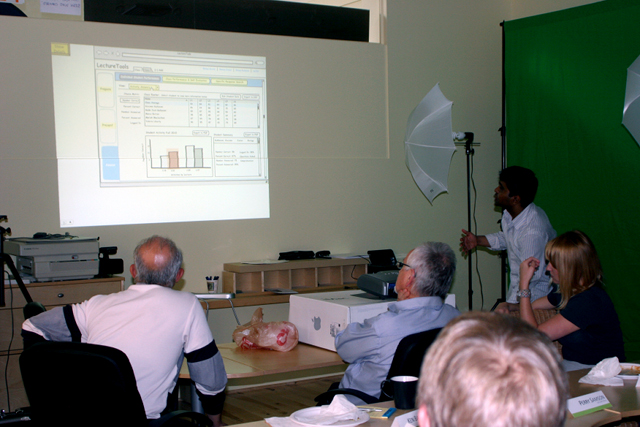 Kiran Jagadeesh, Lead Software Engineer, also gave the beta instructors a brief sneak preview of the "Assessment" feature, which is expected to be live later this summer.
As the LectureTools team continues to look forward, so do the instructors who plan on using LectureTools in their fall courses later this year.
"Next time I'm going to expand on some of the interactive features and questions," said Carpenter.
Learn More About the Instructor Interface Behind LectureTools
Request a live demo today and learn more about how to create interactive slideshows and how to present engaging lectures using LectureTools.