The benefits of collaborative learning are already well-documented. Here are 7 easy ways to use free Web 2.0 applications for collaborative learning in your classroom:
1. Use Google Docs for collaborative writing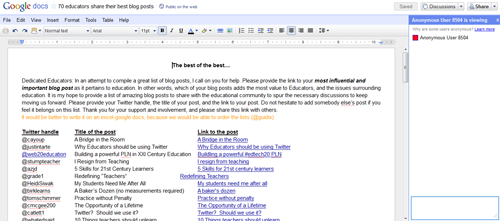 Google's Chromebook could greatly impact education, but the online giant already has a great cloud computing resource for collaborative writing: Google Docs. No longer must one student be burdened as the "recorder" for group assignments.
In Google Docs, everyone can see and make changes to the document in real-time in a web browser. A provided chat room and the ability to comment either on the document as a whole or on specific passages facilitate collaboration. Discussions and comments can be marked "resolved" to indicate group consensus. Google Docs is ideal for most collaborative writing and editing assignments.
2. Use YouTube as a platform for group video projects

Many colleges let students check out equipment like microphones and video cameras. Take advantage of these resources and the easy upload process to assign an engaging group YouTube video project.
Without professional training, don't expect a Ken Burns style documentary, but your students will be able to express creativity and collaborate as a group.
3. Compile course information with a wiki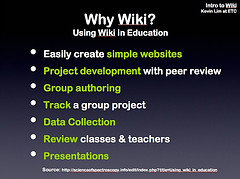 Wikis are available from a variety of sources. Each student can create new and edit existing pages on the wiki. You can verify the editors on each page and what changes they have made using the page history.
Wikis require quality strategy, but are great for cross-linking relevant concepts. An English class that creates a wiki with pages for each book it reads, can grow with pages for main characters, key locations, and key dates to provide students with an immense understanding and knowledge of class texts.
4. Facilitate collaborative reading with eBooks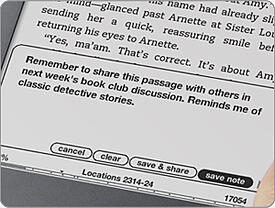 Amazon now sells more eBooks for Kindle than it does hardcopies. Growing popularity of tablets and e-readers allow for a new collaborative learning activity: reading.
The Kindle allows users to share notable passages from books on Twitter and Facebook, leave public notes at specific points in the book, and can display what other readers have commonly highlighted in your book. Similarly, the Inkling application for iPad is designed to make interactive textbooks. Students can create a social "learning" network by following their peers' notes to ask them questions or highlight important passages.
5. Live blog a major event with CoverItLive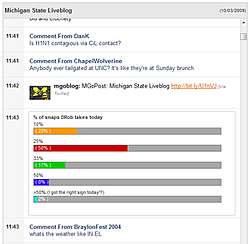 Large events become social and interactive with CoveritLive, a moderated chat and live blog application. Moderators can publish comments submitted by users, upload multimedia, embed photos, pose poll questions, and create newsflashes or scoreboards.
Comprehensive coverage of an event encourages viewers to participate and contribute ideas. For example, students from a public policy or education class could log onto a live blog during an educational reform speech by President Obama. Users could highlight key points, strengths, or weaknesses in the speech, but only "approved" comments are published. Moderators also pose anonymous poll questions about key points of the speech or embed relevant multimedia, dramatically engaging students in the event.
6. Center discussion around photos in Flickr

Flickr allows users to upload their photos and share them with the world. Photos can be geo-tagged, added to specific groups, and tagged by keyword. Each photo has a unique comment stream to facilitate discussion.
An architecture class, for example, could have students upload photos of buildings on campus. The photographer could add location data and a short history of the building in the description. Other students could then add tags (like "Gothic," "Neo-classical," or "Doric columns") and discuss the photos in the comments. The same idea applies to any class that analyzes visual elements.
7. Supplement classroom discussion or connect to the
"real world" on Twitter
A US News article this week shed some light on innovative uses of Twitter in the classroom.
Students can use Twitter to learn from each other's tweets, as well as interact in dynamic literary character roles. Business classes can connect with outside professionals through the social network. Regardless of how students are using Twitter, the site forces them to present their ideas in a concise manner and has the power to connect them with a network that stretches worldwide.

Have you used technology to foster collaborative learning in your classes? Tell us how in the comments.
Learn How to Deliver Interactive, Engaging Lectures From the Cloud With LectureTools

Schedule a live demo to see how LectureTools can help you deliver engaging lectures that increase student attentiveness, participation, and engagement.