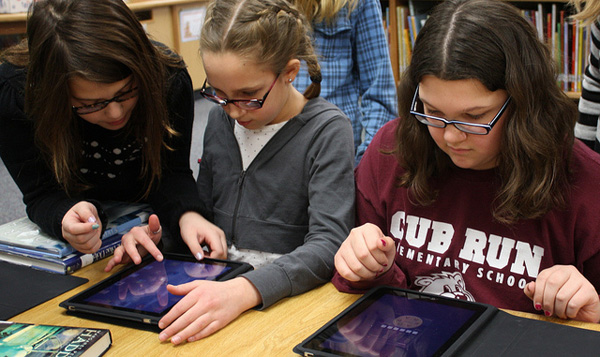 The year 2012 holds a lot of promise for the field of education technology—but before we take the leap into the future, we should take a moment to reflect on the outstanding accomplishments of the past. It's equally important to emphasize why improvements in education are notable in the first place. Increasing the public's accessibility to educational resources, be they classroom-based or otherwise, is the most effective way to improve the quality of education in the U.S. and lead to a more productive society as a result.
The reign of the iPad
According to the New York Times, 2011 saw a growing number of schools begin to integrate use of the iPad into curriculum as a means of improving student understanding and engagement in the classroom. The devices are used for various academic pursuits, including analyzing literature through multimedia, playing trivia-based games in history class, and walking through complex math problems with step-by-step animation. Interactive platforms allow students to take a more hands-on approach to the problems that confront them at school.
Adult learning through mobile devices
Even more accessible and convenient than the iPad, mobile devices were also a notable medium for educational breakthroughs in 2011. Many colleges and universities across the country began encouraging adult learning through mobile devices last year taking advantage of the potential of podcasts as a means of broadcasting online lectures and videos through mobile technology
Shift in opinion regarding online education
Though the public may not be quick to catch on, over half of college presidents surveyed by the Pew Research Center reported a positive opinion of the value of online education (pdf link). This is compared to just 29 percent of the general public mentioned. Despite a less positive opinion toward the value of online education, its popularity has continued to grow in the past ten years, with 46 percent of graduates reporting to have taken at least one online class during their time spent in college.
Remembering Steve Jobs
No article discussing the breakthroughs in education technology would be complete without referencing the contributions of Steve Jobs. Although his life was cut short in October of last year, he left an enduring legacy. Jobs was one of the first innovators to advocate the use of computers in the classroom, and his devotion to integrating technology into educational environments was clear with each new device Apple manufactured. The use of laptops, iPads, mobile devices and other technological devices in the classroom can be traced back to the convictions of one man.
The Year of Ed Tech
2012 promises to be a year of digital dominance as well, with products like ultrabooks and tablets taking center stage this month. But 2011 was a year that created a platform for bigger and better educational technology to come.
Photo credit: Fancy Jantzi
---
Jesse Langley specializes in writing about education, professional and personal development, and career building. He writes on behalf of Colorado Technical University.