The Australian College of Applied Psychology (a division of Navitas Professional), emphasizes student-centric, flexible learning that marries theory with practical experience to best prepare students for careers in psychology, counseling and social work.
Starting in 2010, one college adopted Echo360 to meet a particular need for classroom capture. Soon other schools within Navitas began using Echo360 to offer students more flexibility while capturing all of the group discussions, simulations and other role-playing activities crucial for career training in the psychology field. They found that the use of Echo360 helped build a unique active learning community for instructors and students alike.
Once lecturers began using Echo360, they started teaching each other and sharing information to create their own community, according to Rafik Razzouk, Manager of Multimedia and eLearning Technologies at Navitas
Creating a strong learning community is especially important for Navitas students enrolled in blended and online programs. Maria Spies, Navitas General Manager of Learning, Teaching and Technology Services, says, "The connection with the teacher is very important to a lot of our learning and teaching goals. Echo360 provides that connection through voice and video, of course, into the lecture and the teacher connection really."
Navitas lecturer, Ben Morrison, uses both Echo360 classroom capture and personal capture in his face-to-face and online classes to ensure the same rich learning experience for his students, whether they're on or off campus.
This has enabled him to create a more flexible and engaging learning community. In his own words, "I think Echo360 offers a personalized learning experience because it allows the students to connect with the lecturer. I think that in a lot of higher education environments the lecturer is very detached from the larger body of students and I think Echo360 offers that extra connect between the lecturer and the student."
Want to learn more about how Echo360 helps Navitas? Watch the video.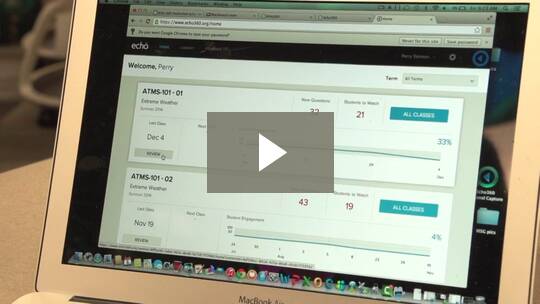 Subscribe to the blog for more stories like this one!